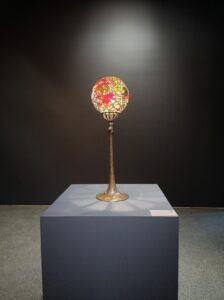 Going once…
Going twice…
Going as often as possible!!!
There are a lot of perks to being a Muse. One of which is getting an invitation to attend an event at the elite auction house, Sotheby's, in New York City. Our CEO Angela saw elusive pieces that collectors around the world sought after. 
It was quite a mix of items on display as Sotheby's celebrated Design Week. An event which highlights an array of extraordinary designs spanning 200 years of hard work from around the globe. Some items auctioned off were sculptures from Alexandre Noll, a Tiffany Studios desk lamp, and a Hans Coper Goblet – all of which sold well into the thousands of dollars. 
The culture and prestige Sotheby's brings to its clientele is second to none. A reminder of how Muse operates. 
If you're looking to overhaul your home or office's interior design or simply spruce it up – Angela can guide you through the process. With a passion for decorating and furnishing, she can turn your home into the castle it deserves to be, helping indulge your every need. With her knowledge of interior decorating and assorted design trends from around the world, you'll easily have ideas you never considered. 
To get the process started simply contact us at [email protected] and we'll be happy to assist you with your design project.