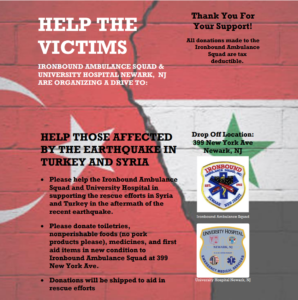 Muse Client Ironbound Ambulance Squad Conducts Drive for Turkey and Syria.
Ironbound Ambulance Squad in conjunction with University Hospital, Newark will be hosting a supplies drive in support of rescue and recovery efforts of those affected by the recent earthquake in Turkey and Syria.
Accepted donations include toiletries, nonperishable foods (no pork products please), medicines, and first aid items in new condition to the drop off location at Ironbound Ambulance Squad at 399 New York Ave, Newark NJ.
"Our hearts are with all those suddenly impacted by the devastating earthquakes in Turkey and Syria. The Ironbound Ambulance Squad along with University Hospital will be collecting items donated by our members and local residents in support of humanitarian and rescue organizations on the ground during this crisis," stated Manny Oliveira, President of the Ironbound Ambulance Squad.
Donations will be directly shipped to help aid in rescue and recovery efforts.
The Muse Marketing Group will also be contributing to this humanitarian effort and are proud to support IAS and University Hospital in this endeavor. "Being a first responder is a selfless duty that goes beyond borders. It is our responsibility to help all those in need both near and far," said Angela Anemoyanis, Muse Marketing's President and Ironbound Ambulance Squad Board Secretary.