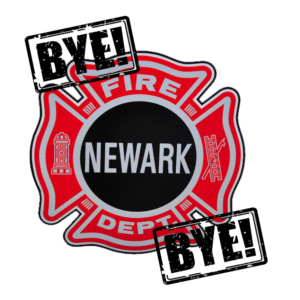 The partnership spanning over a 12 year period with Angela Muse and the Newark Fire Department is sadly coming to an end.
Over the years,  Muse has worked within various divisions including 2 years on the City Of Newark's Grant writing  committee under Fire Chief Centanni helping garner over 12 million dollars for the Fire Department in funding.
Spending 6 years as press secretary of the Fire Officer's Union originally working under John Sandella, Muse was brought on board to handle communications and website design. As time passed, NFOU 1860 was recognized for their marketing and communications efforts locally within the city by the Mayor and council, the state of NJ by the PFANJ and even internationally by the IAFF. We collectively made great strides to put together an impressive impact on the political decisions that affected their membership. All this, while always focusing on bettering the City at the local level by starting and funding local scholarship programs for Newark schools with the "Union Accolade Scholarship."
Another 6 years at Newark Fireman's Federal Credit Union in communications, Muse helped grow the institution from within. A complete rebrand, online, in print and even in house. Muse redesigned the website, all online communications, all print collateral and even the front lobby.  We were always told by CEO Gene Benick that when it came to success,  "The proof is in the numbers and numbers don't lie."
By far Muses most long standing relationship within the Newark Fire Department has been with the United Civil Servants Association. Over 10 years invested in event planning and fundraising including "Comedy Night" and "Blaze on the Beach." Along with communications, branding and serving as Civilian Secretary on the board of UCSA, Muse was a proud member of such a selfless organization.
Muse humbly thanks you for the opportunity. It certainly wasn't always easy!  Onto the next chapter for Angela Muse…