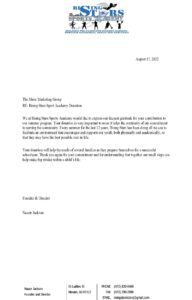 This summer, The Muse Marketing Group collected donations on behalf of Rising Stars, an organization that provides academic support as well as various sports and activities programs for children in the Newark community.
We are happy to say that the donation drive garnered a number of school supply items to help the kids start the new school year off right.  We received backpacks, thermoses, binders, notebooks, pencils, pens, highlighters, report covers and gift cards.
We also received a thank you letter from Rising Stars that expressed gratitude for the items received.
We are pleased that the items are being put to good use and we look forward to helping them again in the future.