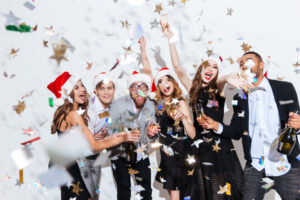 The most wonderful time of the year can be pretty stressful. After you're done shopping for gifts and dealing with your extended family – it's time to orchestrate your office holiday party and/or fundraiser.
There's a lot involved to make sure your event goes off without a hitch. It's important to stay organized the whole way through and tackle your to-do list head on…
Pick a theme before sending out your invites
You want to start off on a strong footing. Sitting down and writing out the type of party you want to throw is crucial. After that first step, visualize how you want to convey that theme into an invitation. It will be the first introduction to your guests on what to expect. 
The proper aesthetic can go a long way. You want to compliment your surroundings with the proper décor for your theme, and the last thing you want are for your guests to trip over them. Breakdown what works best for each room for your party. 
Plan ahead in the kitchen
Do you want a three or twelve course meal? Are there food allergies you need to work around? Is it best to hire a chef? These are all the aspects of food you need to consider. 
What good is a party without some entertainment? You have options from live musicians, a DJ, or even a pre-set playlist. Think about what makes sense for the square footage of your home or office and what may work better with the acoustics. 
A lot more goes into a holiday party  than one might expect. The trickiest aspect of organizing and throwing a party of any size – trying to enjoy it yourself!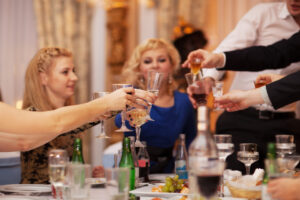 If you want to ensure it's executed to perfection and hassle free, just recruit your local Muses as reinforcements. We have orchestrated a variety of parties and large scale events to perfection. We've done everything from holiday parties, grand openings, fundraisers, launch events and so much more!
Just contact us at [email protected] and we'll be happy to help you out.