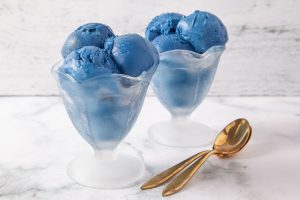 We love ice cream. There are hundreds of flavors and many ways to enjoy this tasty frozen treat. Ice cream is so loved, there are multiple days on the calendar to celebrate it.
It's great in the summer when you want something cold and it's great with desserts, especially during the holidays.  It's even good for breakfast (it's a thing, check it out.)
Mo's favorites are Mint Chocolate Chip, and Chocolate Peanut Butter (preferably Breyers).
When asked about his favorites, Nick said, "Cookie Dough for Daaaaaaaaaayyyyyyzzzzzz!"
Angela said, "I'm a soft serve vanilla wafer cone with jimmies girl. Yes. I said jimmies! That means chocolate sprinkles.
Sundae wise… Hmm cookie crumbles and peanut butter sauce and… whipped cream is a must.
Or…Cookies and Cream or Mint Chocolate Chip.
I clearly don't discriminate. Anything with chocolate… anything but strawberry or cherry."